Why Choose Ford For Your Business
At Franklin's Spring Creek Ford, we know how important it is to find reliable and durable commercial trucks and vans for your business. In many cases, your business depends on it! Whether you are in need of one commercial vehicle, or an entire fleet, it's important to do your research.
If you are in need of new commercial trucks or vans for your business needs, consider Ford. Our team at Franklin's Spring Creek Ford can help you find the right equipment your industry demands. We have a large inventory of cargo vans, wagons, passenger vans, cutaways, work trucks, and company vehicles for you to choose from. And, with an affordable price tag, these commercial vehicles provide an incredible value.
Read on to see why you should choose Ford for your business transportation needs
Commercial Ford Trucks & Vans that are Built Ford Tough
Since Ford trucks and vans are built to be reliable and durable vehicles, they are ideal for commercial applications. Each Ford truck and van has undergone hours of testing under the harshest conditions, to ensure they will hold up for years to come. Rest assured, your Ford vehicle will with standard severe temperatures, snow, sleet, and heavy-duty wear and tear.
In fact, the doors and attached hardware on Ford Transit vans and F-Series trucks have been slammed over 250,000 times in testing. The underbody of Ford commercial trucks and vans have been testing under extreme road conditions to ensure durability and are built with a high-strength, military grade aluminum alloy body, for supreme durability. Lastly, most Ford commercial vehicles are engineered with stronger axles in order to accommodate more weight and haul heavy loads.
Finding the Right Commercial Vehicle for your Needs
When you shop Ford's assortment of commercial vehicles, you'll have endless options:
Whether you require just a few commercial vehicles, or an entire fleet, our dedicated sales team will help you weigh your options and find the best Ford truck or van that meets your business' needs.
Ford Credit Options
Ford understands the unique needs that businesses face, which is why Ford Credit Commercial Lending offers a variety of flexible financing options.
At Franklin's Spring Creek Ford,
our financing team
will work with you to help develop financially smart solutions which are personalized to your business' unique needs. Ford's flexible approaches include Retail and Lease financing, CommerciaLease, and Commercial Lines of Credit. 
Shop New Ford Commercial Trucks & Vans near Colquitt, GA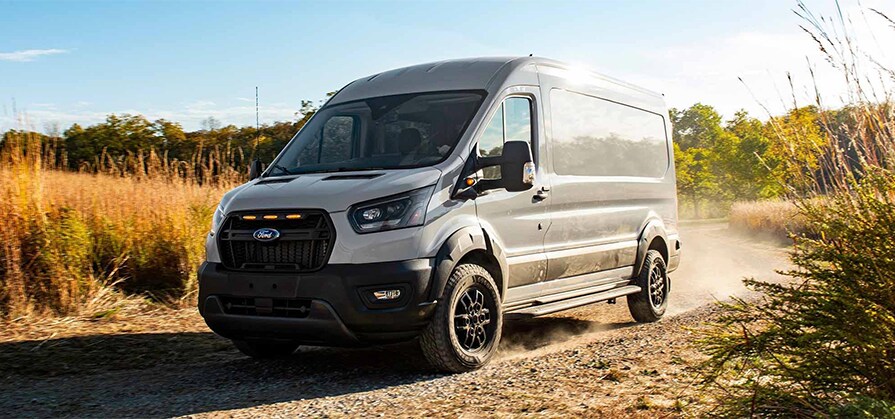 With a great lineup of durable Ford commercial vehicles and flexible financing options, it's easy to see why you should choose Ford for your business.
If you are looking for new Ford commercial trucks and vans near Colquitt, GA, there's no better place to shop than Franklin Spring Creek Ford. As your Commercial Vehicle Center, we're able to match you with the perfect commercial vehicle using our Commercial Vehicle Tools. These tools provide the GVWR, payload, cargo volume, upfit, and other vital specifications, which we can use to match a vehicle to your exact requirements. Browse our inventory of new commercial vehicles, then visit our dealership near Bainbridge, Blakely, Camila, and the surrounding Georgia communities.
How can we help?
* Indicates a required field