Today, the Ram 1500 and Ford F-150 are not only two of the best-selling trucks in the United States, they're also two of the best-selling vehicles. These stylish and high-powered trucks are very similar in a number of ways, but the Ford F-150 finds more ways than one to stand out from the crowd. Let's take a closer look at the heavyweight, full-size face-off between the Ford F-150 and the Ram 1500 truck. To get up close and personal with the Ford F-150, feel free to reach out to the team at Franklin's Spring Creek Ford.
Which Truck Offers the Best Towing Capacity? 2019 Ram 1500 Truck vs 2019 Ford F-150 Truck
Whether you're in Colquitt, Tallahassee, Marianna, Bainbridge, or anywhere else in South Georgia and North Florida, you deserve a truck with the proven ability to meet your needs. It's only fair we begin this comparison between the Ford F-150 and the Ram 1500 in the performance category. The Ford F-150 offers you a choice of six different engines, and the Ram 1500 offers a respectable three engines, including the legendary HEMI 5.7L V8. Simply put, the Ford F-150 outperforms the Ram 1500 in each of these categories. The Ford F-150 offers a maximum horsepower of 450, which trumps the Ram 1500's 395 HP. At the same time, the Ford F-150 boasts a vibrant 510 lb.-ft. maximum torque, which is significantly more than the Ram's 410 lb.-ft. of torque. What do these numbers mean? It means the Ford F-150 will easily tow heavier boats, trailers, farm equipment, construction equipment, and anything else. In fact, the Ford F-150 offers a max hauling weight of 3,270 pounds and a maximum towing capacity of 13,200 pounds - when properly equipped. In contrast, the Ram 1500's max hauling weight of 2,320 pound and max towing capacity of 12,750 pounds leave a lot to be desired.
Smart Features and Technology: The Ford F-150 vs Ram 1500
If you're like most drivers, you want to use your truck for work and play! In fact, both trucks come with a range of innovative technological features. For instance, you'll enjoy Android Auto and Apple CarPlay integration in both trucks, so you can quickly find directions, stream music, and control several of your smartphone functions. One area the Ram 1500 truly excels is with its large 12-inch touchscreen display. However, if you're likely to use your truck as a mobile office, have small kids, or simply want to stay connected, only the Ford offers an available Wi-Fi hotspot for up to 10 devices.
Cabs & Bed Sizes: 2019 Ford F-150 vs 2019 Ram 1500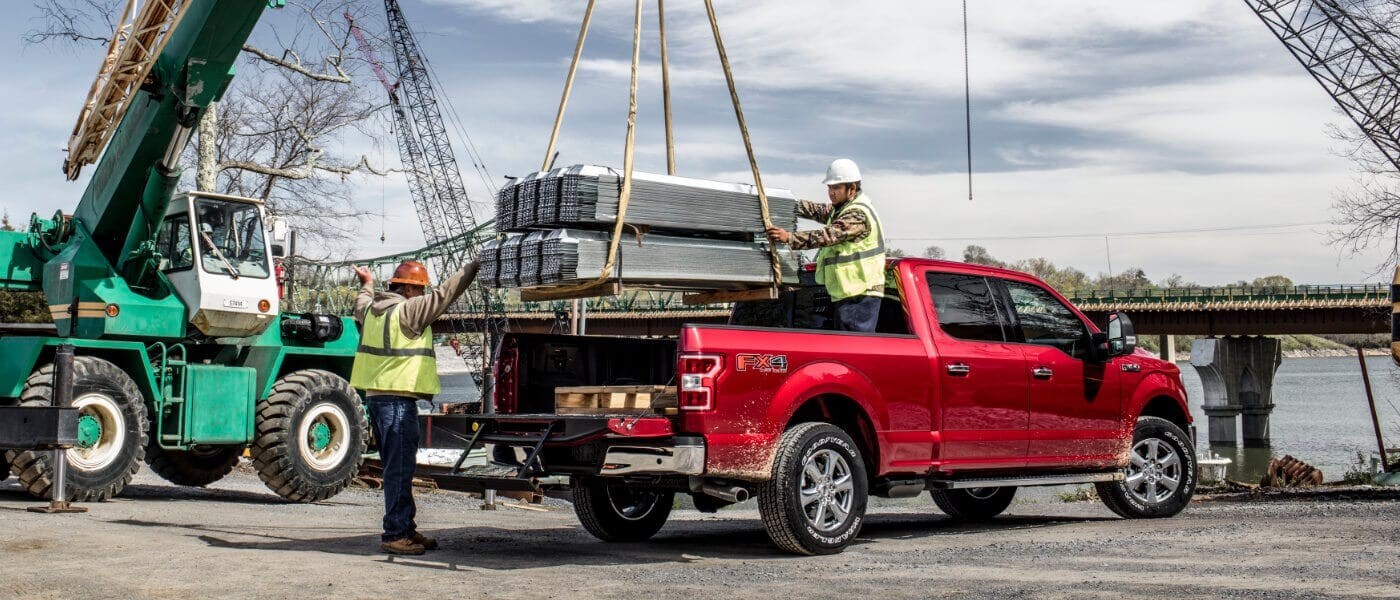 When it comes to finding the perfect truck, there are no one-size-fits-all solutions. Unfortunately, this is one area where the Ram 1500 falls short, only offering three different configurations. On the other hand, the Ford F-150 offers three different tailgate lengths and three different cabs, totaling seven unique configurations. You can choose: 
Standard cab with a 6' 6" tailgate 
Standard cab with a long 8' tailgate 
SuperCab with a 5' 6" tailgate 
SuperCab with a 6' 6" tailgate 
SuperCrew Cab with a 5'6" tailgate 
SuperCrew Cab with a 6'6" tailgate
Contact Franklin's Spring Creek Ford for the New F-150
If you're in the market for a new truck, you deserve the best-the new Ford F-150! At Spring Creek Ford, we offer a large selection of the best-selling F-150 in all trims. Our experienced team will listen to your needs and guide you to the best solution. Contact Spring Creek Ford in Colquitt, GA today!